Pulcinella & Maria Mazzotta
Pizzica effervescente
La Tarentelle - Diavule diavule
[CREATION JUNE 2019]
Effervescent pizzica
Imagine a golden thread between Toulouse to Tirana via Lecce,
constantly running backwards and forwards between these 3 Mediterranean cities.
We can call this thread the « Pizzica » – a dance trance from southern Italy created by women in order to heal tarantula bites – and to free themselves from the oppression of the patriarchy.
And in the twist of this thread we find hypnotic tarantelles, harmonies from Albania, a bit of jazz, and wild waltzes.
A collaboration not to be missed : Maria Mazzotta, one of the most emblematic voices of the Pouilles region, meets Pulcinella, the explosive jazz quartet from Toulouse.
---
Maria Mazzotta voice and tamburello
Florian Demonsant accordion, Elka organ and voice
Ferdinand Doumerc saxophones, flute, glockenspiel, Armon

keyboard

and voice
Pierre Pollet drums
Jean-Marc Serpin double bass
Jacques Masliah sound engineer
Coproduction Festival Toulouse d'été, Mairie de Toulouse, Scène Nationale d'Albi
« The quartet Pulcinella underlines this overwhelming and deep voice, and then sneaks into the gaps just to unleash the horses. (...) You see yourself going in a blink from tears to laugh, this combination is definitely devilish. » La Dépêche.
Ça (Quartet)
Jazz inflammable
[CRÉATION 2018]
Flammable Jazz
More electric than the previous ones, their 6th album entitled Ça (It) hosts a gallery of mutant sounds straight out of an Elka organ and pedals of strange effects… An atypical music serving an ode to the Ça (It), a stream of desires without censorship studied by Doctor Freud.
The quartet recorded its last album «Ça» in January 2019 at BMC studios (Budapest Music Center) in Hungary.
Pulcinella offers here a large disc, a dream machine and a remedy for big brothers to make our fears disappear and push us towards our fellow men.
Jean-François Sciabica – Citizen Jazz
---
Ferdinand Doumerc saxophones, flutes, melodica
Florian Demonsant accordion, ELKA organ
Jean-Marc Serpin dumble bass
Pierre Pollet drums
Jacques Masliah sound engineer
Partnerships L'Astrada, La Scène Nationale d'Albi La Claranda, Job et Art'Cade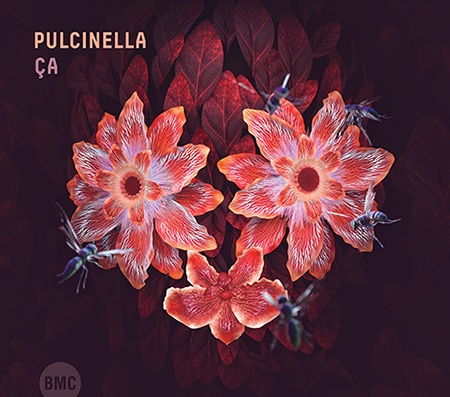 Clip "Qu'est ce qu'on attend ?"
PulciPerla
Afro caribéen azimuté
When the impetuous members of the Toulouse-France based Pulcinella meets with the energic trio from Bogota-Colombia La Perla, the result is PulciPerla! A mixture of swaying and carnal music where the vocal, saxophone, accordion, bass and percussions are all connected to build the rhythm.
Crazy and percussive songs powered by bulerengue, reggaeton, funk and champeta setting fire and making you move.
---
Diana Sanmiguel song, maracas, guacharaca
Giovanna Mogollón voice, happy drum
Karen Forero song, gaïta, tambora
Ferdinand Doumerc saxophones, flute, voice
Florian Demonsant accordion, Elka organ, voice
Pierre Pollet drums
Jean-Marc Serpin double bass
Jacques Masliah sound engineer
Partnerships DRAC, Région Occitanie, Conseil Départemental de Haute-Garonne, Mairie de Toulouse, Institut français, Spedidam, La Copie privée, Jazz Tropicante.
« A concert ending on a climax regrouping both bands, just to remember that apart from the bliss of the reunion, this kind of practice, in jazz is the founding of a living democracy. » Laurent Brun – Jazz Rhônes-Alpes
La Guerre des Boutons
Bal à facettes
Pulcinella - La Guerre des Boutons
[CRÉATION SUMMER 2022]
For this hybrid repertoire, the quartet becomes a quintet, with two accordionists (also officiating on keyboards)!
And when they are not playing saxophone, double bass, drums and accordions, Pulcinella give voice to this azimuth and percussive repertoire under Afro-Latin, musette, funk and Balkan influences...
Electrifying original compositions and dynamited covers promise insistent calls to dance!


Une guerre des boutons colorée et festive !

---
Corentin Restif accordion, Armon organ, voice
Florian Demonsant accordion, Elka organ, voice
Ferdinand Doumerc saxophones, flutes, voice
Pierre Pollet drum, voice
Jean-Marc Serpin double bass, voice
Frédéric Gastard oreille extérieure
Jacques Masliah sound engineer
© Cedric Gleyal